Your shortcut to a good home business opportunity
BOW's 44 Top Rated Home Businesses and Franchises
Latest 2013 Edition

Special Bonus - automatic updates for six months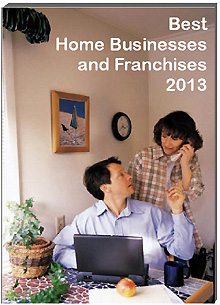 Unique eBook

Best Home Businesses and Franchises 2013 is the new 2013 edition of our long-running publication, now in ebook format. It includes all the 44 top-rated home-based businesses and franchises which have been recommended to date by Business Opportunity Watch magazine.
Many of these home businesses and franchises are proven, long-standing ones which have stood the test of time. A few promising newcomers are also included.

This eBook is unique because, unlike other magazines and review sites on the Internet, Business Opportunity Watch does not receive any advertising income from people selling home busineses and franchises and it does not receive any income from commission links to home businesses or franchises.
The only income Business Opportunity Watch receives is from people looking for a home business or a franchise i.e. membership subscriptions, sales of individual reviews and sales of this ebook. So you know for sure that our reviews are unbiased and uninfluenced by any thought of financial reward coming from recommending any particular home businesses or franchises.
You also have the peace of mind of knowing that the recommendations are backed up by the 30 years' experience of the editor - 17 years as a professional accountant followed by 13 years' experience of investigating home business opportunities and franchises.
44 home-based businesses and low-cost franchises are included in Best Home Businesses and Franchises 2013. They all scored 7 or more out of 10 in the online magazine Business Opportunity Watch.
All the home businesses and franchises have been hand-picked for their suitability for people who want to work from home and run their own business, either part-time or full-time with a low investment. A few of them are even free to start.


These are straightforward, genuine opportunities to work from home running your own home business or franchise, and most of them have been proven over time.


Many of them need no special skills, qualifications or experience.


You can start with many of these opportunities quickly, although a few require you to have some training, which is included in the home business or the franchise.


You will find a wide choice of home businesses and franchises in this ebook - something for everyone, for example:

- home publishing
- internet marketing
- selling on e-Bay
- freelance writing
- mystery shopping
- party plan
- photography
- garden plants
- second hand book business
- home PR business
- insurance agency
- network marketing
- diet consultancy
- child minding
- copywriting business
- greetings cards
- laptop repair
- telecommunications
- DIY
- pet minding
- book-keeping
- domestic cleaning agency
- children's playgroup


All the businesses and franchises featured in Best Home Businesses and Franchises will be based in your home - there is no requirement to rent an office or to have a retail outlet.


You will find that the ebook contains full details of the company offering each home business or franchise so that you can contact them.


There is a wide range of earnings potential, depending on your choice of home business or franchise. Because these are businesses rather than jobs, your income will increase as you build your business over time.
The Best Home Businesses and Franchises ebook gives you full details of each home-based business and franchise , with contact details for each of the 44 companies, including our research and analysis explaining why each business is a top-rated one.

P.S. Special Bonus - Automatic Updates For Six Months - Your purchase of the Best Home Businesses and Franchises 2013 ebook comes complete with online access for 6 months, during which time your online copy will be automatically updated with new top-rated opportunities reviewed in Business Opportunity Watch. Because good home-based businesses and franchises are hard to find, we cannot guarantee how many new top-rated businesses and franchises will be added to the ebook during this time. Normally, however, between six and ten new top-rated home businesses and franchises would be added in a six-month period.

Price: £19.95

Delivery: Online access

7 Day Refund Guarantee:
If you are not delighted with your purchase for any reason then let us know by email within 7 days and we will send you a full refund.